AWARD-WINNING NORTH EAST WEDDING DJ HIRE

OUTSTANDING PACKAGES FOR YOU SPECIAL DAY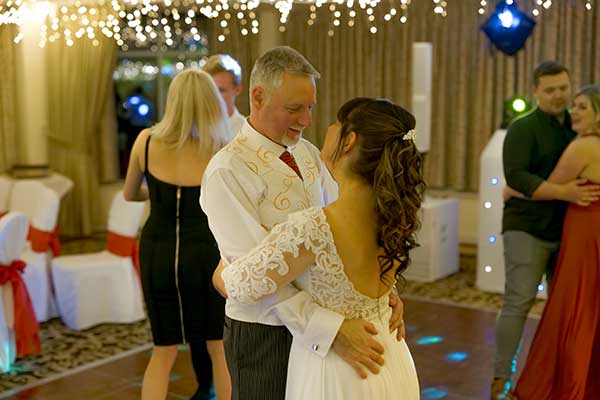 THE SOUNDTRACK TO A MAGICAL DAY...

I hire top-quality, multi award-winning, bespoke Wedding DJ Packages to the North East, Cumbria and beyond and I strive to give you the event of your dreams. Having performed as both a DJ and Master of Ceremonies at hundreds of weddings stretching back years, you're in safe hands when you book me as your DJ. The right Wedding DJ will really transform your function so give me a call!

My personal, friendly service and face-to-face meetings will allow me to really understand your requirements for your special day, and how I'll fit into that. Consultations in advance are no problem, and there's absolutely no obligation to book. I've worked with hundreds of different couples, each with their own unique tastes and requirements so I understand how to create a custom package that's perfect for you both!

The right music can really make-or-break a party so let me work with you both to create a custom playlist combining the hits that you, your friends and your family remember and love, as well as the high-energy hits that will get your party bouncing. If you've been searching for a "wedding DJ near me", then stop looking and give me a call! I'd be absolutely delighted to perform at your event.
DELIVERED IN YOUR OWN PERFECT WAY...

Professional radio microphone systems allow guests to deliver speeches while our state-of-the-art PA systems ensure that everything's heard with crystal clear clarity. I'm happy to provide mood-enhancing music throughout the day for a small additional charge and if your speeches are during the reception I'd be happy to record these for you both so just let me know in advance if this is something you'd like me to supply.

I'll supply your venue with any required certificates (PLI Insurance and PAT testing etc.) and we're happy to liaise with them to ensure the event proceeds smoothly. We can also set up early and you're always welcome to contact us at any time! We don't just offer a "standard setup"; it's your magical day and we want to ensure you get a package that suits your theme and venue. Everything from a stunning, ice-white package to sleek-black or rustic are on offer.

To get your event looking the absolute bees-knees, we also hire mood and uplighting to bathe your function room in a beautiful wash. You can choose a custom colour scheme (perhaps to match a dress-code or to go with your colour scheme), or I can program colour changing scenes to add atmosphere and ambience to your event. It really will add the wow factor to your party! Take a look at our Uplighting page for further details.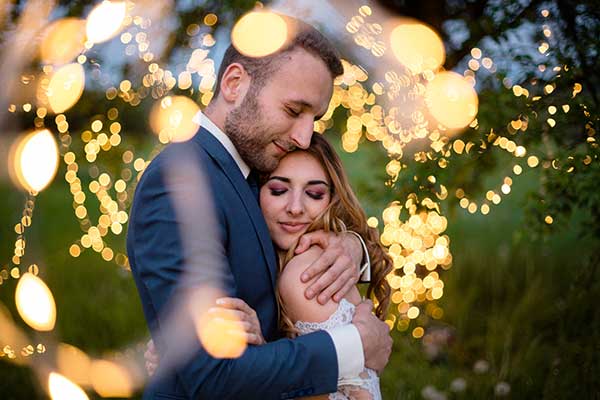 THE EXTRAS TO ENHANCE ANY FUNCTION

Why not consider hiring a Photo Booth or Magic Mirror? They're a brilliant way to increase the fun that you and your guests have, and you'll all get some cracking photos to keep with some crazy props. Or how about a dazzling LED Starlit Dance Floor or stunning Giant L.O.V.E. Letters hire to really make a statement and set the mood? We offer a variety of letters so whatever package you choose, they'll match your theme and venue beautifully!

You could also consider some stunning Uplighting or custom Monogram Projection. They're a fantastic way to really finish off an event and I offer great hire deals when booked with a superb DJ packages, with our White-Wedding setup always in demand!

I can also offer superb Wedding Photography and Wedding Videography Hire Packages at great prices so get in touch to find our more! No job is too small or large; from a small, intimate affair in a local pub, to a huge, packed gathering in a stately home or marque! Please visit my sister-company Fantabulous Media for all your needs!

For your evening I'll put everything in place to ensure if goes off with a bang. Hire a Wedding DJ you can trust for your big day; hire The Boogie Knight!
AS STANDARD OUR WEDDING DJ PACKAGES INCLUDE:

SUPERB SERVICE
We take your experience with the utmost of importance, and our 5* feedback and multiple awards reflects this. We treat our customers with respect.

From email communication to calls to one-to-one meetings, you'll enjoy a superb standard of service when booking a Wedding DJ Package.
PERFECT PLANNING
It's your magical day and we'll give you both exactly what you want. We'll invest time in going over your exact needs and find out exactly how we can give you the party of your dreams, from start to finish.

You'll receive a planner to let us know your exact requirements, and any alterations are no problem at all, just let us know!
YOUR MUSIC & PLAYLISTS
For you special day you want the music that you and your friends love and we'll make sure that you get just that. We're always happy to receive playlists of required songs, and we can also take requests on the day to finish.

We can also offer customised mixes for you first dance, and we're happy to make changes at anytime.
GREAT PACKAGES
With a wide range of services, we can offer fantastic package deals to our clients. Not only will you get a great discount but you'll also get a setup with beautiful, matched services!

Just check out the range of services we offer and give us a call for a fantastic price, all with our superb customer service.
OUTSTANDING AUDIO
Whichever one of our packages you choose, you'll enjoy great sound quality. Our line-array systems deliver everything from thumping lows to crystal-clear highs, however many guests you have.​

We'll also ensure that we aren't deafening you or your guests. We understand that loud music isn't always appropriate and you're welcome to come and ask us to turn down (or up!) at anytime.
SHARP DRESSED MAN
I'll always dress appropriately for your special occasion. I usually wear a smart suit and tie during wedding services but I also understand that couples don't always want this.

If you're prefer me to dress more casually then just let me know.​ I can even wear something a little bit more more flashy if your event has a particular theme!
MASTER OF CEREMONIES
We're more than happy to conduct Master of Ceremonies services at your wedding and you​ can be confident that we'll speak with clarity over the microphone.

Some clients want a chatty, fun DJ while others just want to hear the music they've asked for. I'm happy with either approach so just me know what you're looking for and I'll deliver!
GREAT FOLLOW UP
We always follow up on our completed functions to ensure our clients are happy with the service we offered. and we use this feedback to improve the service we offer.

For our photography and videography packages I'll strive to get you your images and video as quickly as possible and we often deliver the finished product within a week of the function.
SETTING THE SCENE WHILE YOU BOTH STEAL THE SHOW

WARMING UP GUESTS & CUTTING THE CAKE

I'll generally start the night with some background music to keep your guests entertained while they're arriving, getting themselves a drink and mingling. We're brilliant at reading crowds so we'll pick great music for everyone and we're happy to take a Playlist and requests! Then we'll get them warmed up and cheering you both as your enter your function room (under a spotlight) as a newly wed couple! Next we'll ramp the music up until it's time for you both to take centre stage. You may want to include a Mr & Mrs style wedding quiz early in the night and I'd be delighted to announce and present this.

We generally find that cake cutting works best just before the first dance so I'll announce you both to the front of your function room (after putting a spotlight on your cake) and get your friends and family to gather round you both.

Then (to a song of your choosing if you'd like one), we'll give you a rousing countdown before you cut the cake to cheers from your friends and family. Once your cake has been cut it's time for the highlight of the night, your first dance!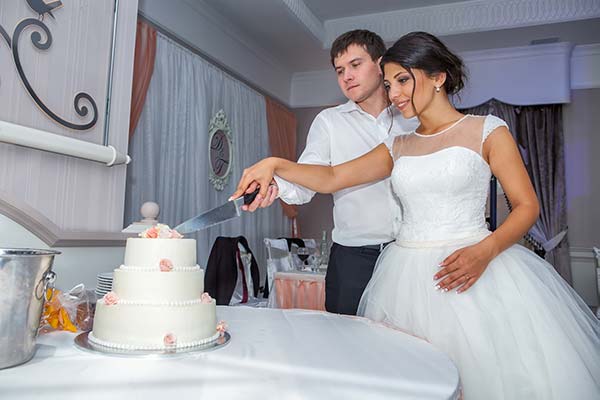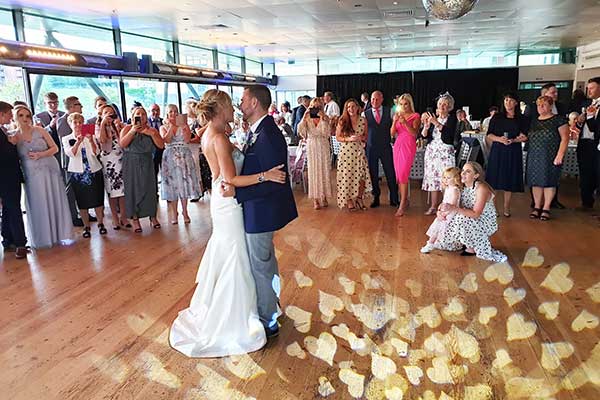 GET YOUR DANCING SHOES ON & PARTY!​

For your First Dance we'll announce you both onto the dance floor with some uplifting music before setting our lights to stunning hearts and stars on the floor. Well make sure your friends and family are gathered round then we'll begin your dance. We can get your friends/family to join in (usually halfway through) and we'll get everyone to give you both a massive cheer at the end.

If you'd like to do father and daughter (or other special) dances we usually do those next although some couples prefer them later on in the evening. Once these are over it's party time with great music, great lighting and great dancing all night long!

It's become very popular to leave a great impression with the last song of the night and it's something we'd recommend as it makes a fantastic end to a function. Again, we'll gather your friends and family round you both for a dazzling finale. There are a huge range of great songs for this and we're happy to help you choose one. Couples sometimes reprise their first dance song, pick a high-tempo banger or even go with a novelty song; it's entirely up to yourselves!

We'll have your friends and family leaving with amazing memories (and aching feet!) from a simply fabulous night.
THE BEST NIGHTS... THE BEST VENUES...